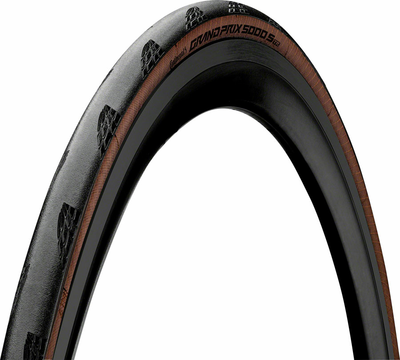 The Grand Prix 5000 S Tubeless Ready allrounder tires are lighter, faster and supported with stronger sidewalls, compared to previous GP5000 versions. Designed to be compatible with hooked and hookless rims, this new standard in road tubeless ready technology will allow you to ride faster, more comfortable and with increased puncture protection. - Hookless rim compatible up to 73 PSI / 5 bars - The tubeless ready (TR) carcass construction is robust and impervious against damage and penetration from foreign objects. The result: versatile, low weight and an attractive design. In addition, tires made using this technology can also be used as Tubeless or with an inner tube - Vectran Breaker is a synthetically manufactured high-tech fiber with an enormous tear resistance at a very low weight: Exactly the right properties to process into a premium Continental bicycle tire as a puncture protection insert - Active Comfort Technology absorbs vibrations and smoothens your ride - Lazer Grip, to make you one with the road. The lazered micro profile structure expands over the tire's shoulder and provides outstanding cornering - BlackChili Compound provides the best balance of grip and rolling resistance for cycling
The Trail King guarantees the best traction with its many small studs on any trail no matter how difficult. The tire excels on all-mountain and enduro bikes. The carcass also offers plenty of clearance against punctures. The biker constantly gets feedback, adjusts easily to the conditions, and remains in the flow.
The Trail King ShieldWall tire hits the mark with its superb grip and unexpected low rolling resistance for long distance riding over a variety of terrain. Making use of the innovative BlackChili compound, the Trail King is a master of the demands and challenges of all-mountain riding. Thanks to its comfortable and voluminous casing, this tire shines on enduro and all-mountain bikes with greater than 140mm of suspension. It's Tubeless Easy and designed to seat and inflate the first time using a standard floor pump.